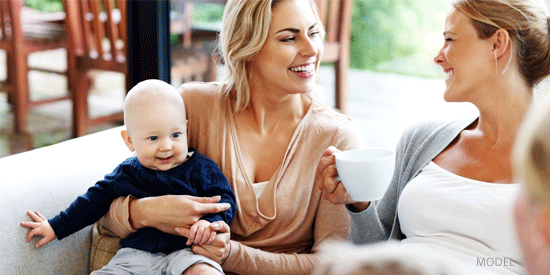 Painless Recovery with Mommy Makeover Procedure
Have you been thinking about having plastic surgery, but worried about a painful recovery? So was "Tasha," a 35-year-old registered nurse and mother of four who recently had a Mommy Makeover.
"I was a bit apprehensive," Tasha admits. "But during my consultation, Dr. Azar explained how the On-Q® pain pump works—and he put my mind at ease."
What is On-Q?
On-Q is a simple system for delivering local anesthetic in the first few days after surgery. It's designed to give you a more comfortable recovery — without narcotic side-effects such as breathing difficulties, nausea, constipation and that "knocked-out" feeling.
How does On-Q work?
"As I'm finishing your surgery, I will put the On-Q device in place at the incision site," Dr. Azar explains. "On-Q is a small, high-tech balloon that automatically delivers a local anesthetic slowly and continuously to keep the surgical site numb."
Tasha's Mommy Makeover at our Thousand Oaks plastic surgery practice included silicone gel breast implants, a tummy tuck and liposuction on her abs and love handles. "I had plastic On-Q catheters put in my breasts at the end of my surgery," she recalls. "Dr. Azar said the On-Q pain pump would decrease my pain—but it actually took all my pain away!
"I'd heard from friends who'd had breast augmentation that they'd had painful throbbing, but I had no pain in my breasts," she adds.
"Every few minutes, the On-Q released the anesthetic medication," Tasha recalls. "I had my surgery on a Wednesday, and the pain pump was removed on Friday. It was a life-saver!"
'I look 100% better!'
Today, a month after her Mommy Makeover, Tasha is thrilled with her results. "My belt is in two notches," she says—I've gone from wearing size 8 or 10 jeans to a size 6. My husband says I look like I did when I was 18!"
Before her surgery, Tasha had worked out with a personal trainer for two years. "But even with all that exercise, we could not get rid of my belly," she recalls. "With the ab muscle separation from having kids, the more crunches and sit-ups I'd do, the bigger my stomach would look—because the muscle was developing behind the 'pooch.' My personal trainer says he has a lot of clients with the same issue.
"My body had not been mine for quite some time," Tasha recalls. "Now, when I look in the mirror, I like what I see!"
Interested in learning more about the benefits of a Mommy Makeover? Request a consultation with Dr. Azar to discuss your candidacy and to learn more about the procedure.