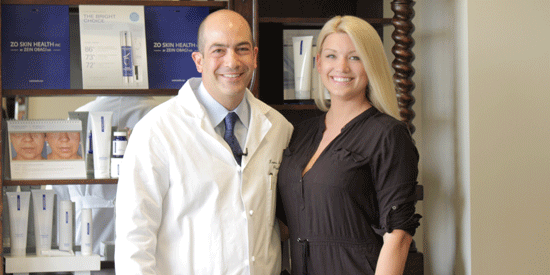 Different Paths to Breast Augmentation Revision
I've recently had the opportunity to perform revision breast augmentation on a wonderful new patient! Lacey Von Erich, pictured above, is a retired professional wrestler, mother, and wife. She has come to my plastic surgery practice for her revision breast augmentation in Thousand Oaks. With a successful career, pregnancy, and more, Lacey really has it all. Now she's looking forward to restoring some areas of her body, so she can get back to what matters to her most. Together, we've discussed her lifestyle, her future plans, and aesthetic goals to determine which implant type and size will best suit her needs.
Lacey's decision to swap implants is just one of a number of ways to resolve problems that may arise after a breast augmentation procedure. We'll arrive at the right plan for you by talking through your aesthetic goals.
Treatment of Issues
Complications may arise within a few months, or even several years after breast augmentation surgery. Problems like capsular contracture, asymmetry, implant rupture, etc. may occur, causing an aesthetically displeasing result. Revision augmentation can help to treat and reverse some of these issues. When performed by a board-certified plastic surgeon with quality implants, it is possible to prevent many of the issues from occurring again.
Implant Exchange
During an implant exchange, a patient's existing breast implants will be removed and replaced with new ones. They may be larger, smaller, or comprised of a different material, such as switching from saline to silicone implants. Some patients who had a breast augmentation before having children and subsequently saw a change in volume of their breasts when nursing will require different sized implants on each side, as one breast may have drooped or acquired more additional tissue from nursing than the other.
Many patients choose to simply receive an implant exchange for a smaller implant size, as was the case with the patient pictured below. While she enjoyed her breast size for many years, she elected for a smaller implant size that she feels fits her age and lifestyle better.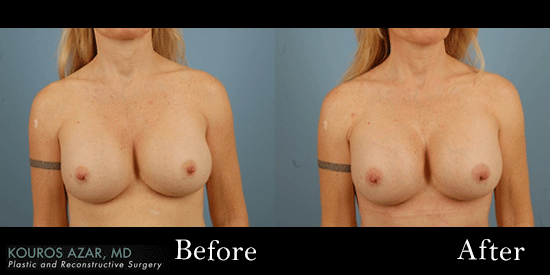 Breast Lift or Mastopexy
Age, pregnancy, nursing, and significant weight fluctuation can all cause breasts to begin to droop or sag, whether a patient has existing implants or not. A breast lift may be combined with revision augmentation to lift the tissue of the breast to a higher position on the chest, and an implant can create a round, full appearance with a higher pole position.
Additional Procedures
Many patients decide to combine procedures for enhanced aesthetic results after receiving another treatment with their revision breast augmentation. This may be liposuction around the lower abdomen or back to enhance their contours, or even a rejuvenating facial procedure that helps them appear a few years younger. You can learn about the benefits of combining procedures in my previous blog post.
These procedures can all be viable components to a revision breast augmentation, but the proper combination of procedures for your individual goals will be best determined by an in-person consultation with a board-certified plastic surgeon.